Albert Harland
1869-1957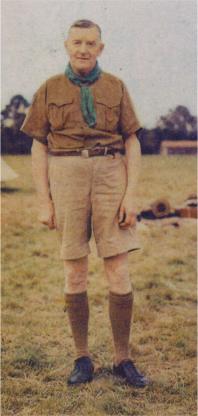 Image © 59th Sheffield (St Augustine's) Scout Group
1920-1931 District Commissioner (Yorkshire and West Riding - No 5 District)
1931-38 District Commissioner (Sheffield)
Chairman, Sheffield Local Association of Boy Scouts
Vice President, SLABS
Born: Ruislip, Middlesex, son of Rev Albert Harland
Education: Rugby School and Corpus Christi College, Cambridge
Managing Director of Joseph and Henry Wilson Ltd, Westbrook Mills, Sheffield
Conservative M.P. for Ecclesall, Sheffield: 1923-29
Member of Sheffield City Council Sheffield: 1902-11, 1923-24 and 1929-36
Alderman: 1932-36
Justice of the Peace
"By the death of Mr Albert Harland on 25th February 1957, Sheffield lost its greatest Scout and one who for nearly 50 years was beloved and admired by all those who had the priviledge of knowing him.
Becoming interested in the Scout Movement in its earliest days, Mr Harland was instrumental in founding the Sheffield Local Association in 1909, and from then on devoted himself to Scouting.
During his long service he held almost every important office in the Association, being Chairman, Honorary Treasurer and later District Commissioner. A man of the highest principles, wide interests and a great traveller, he had a gift for entertaining and training boys and was never happier than when he had Scouts around him, particularly in camp and on his many journeys overseas.
Basing his life on the Scout Law and Promise, Mr Harland set a wonderful example to all who worked with him and it was largely his energy and enterprise which built up the strong Scout organisation which now exists in the city.
To within a few days of his death in his 88th year, he took a lively interest in all Scout affairs and although latterly his acivities were necessarily curtailed, his adviceand help were often sought and always willingly given.
At the funeral service in the Sheffield Cathedral on 1st March, representatives of all branches of the life of the City were present to honour the memory of a great citizen. Scouts lined the Church-yard and Scout Commissioners escorted the coffin which was draped with the Scout flag. On the flag, was Mr Harland's Scout Hat surmunted by his Silver Wolf, the highest award in Scouting, awarded to him by the Chief Scout in 1944.
The life and work of Mr Harland will long be remembered with deep affection and with feelings of gratitude for the great joy and happiness he gave to so many for so long".
From the 46th Annual Report of SLABS for the year ending 31st March 1957